Berkshire War Memorials
READING - Greyfriars Church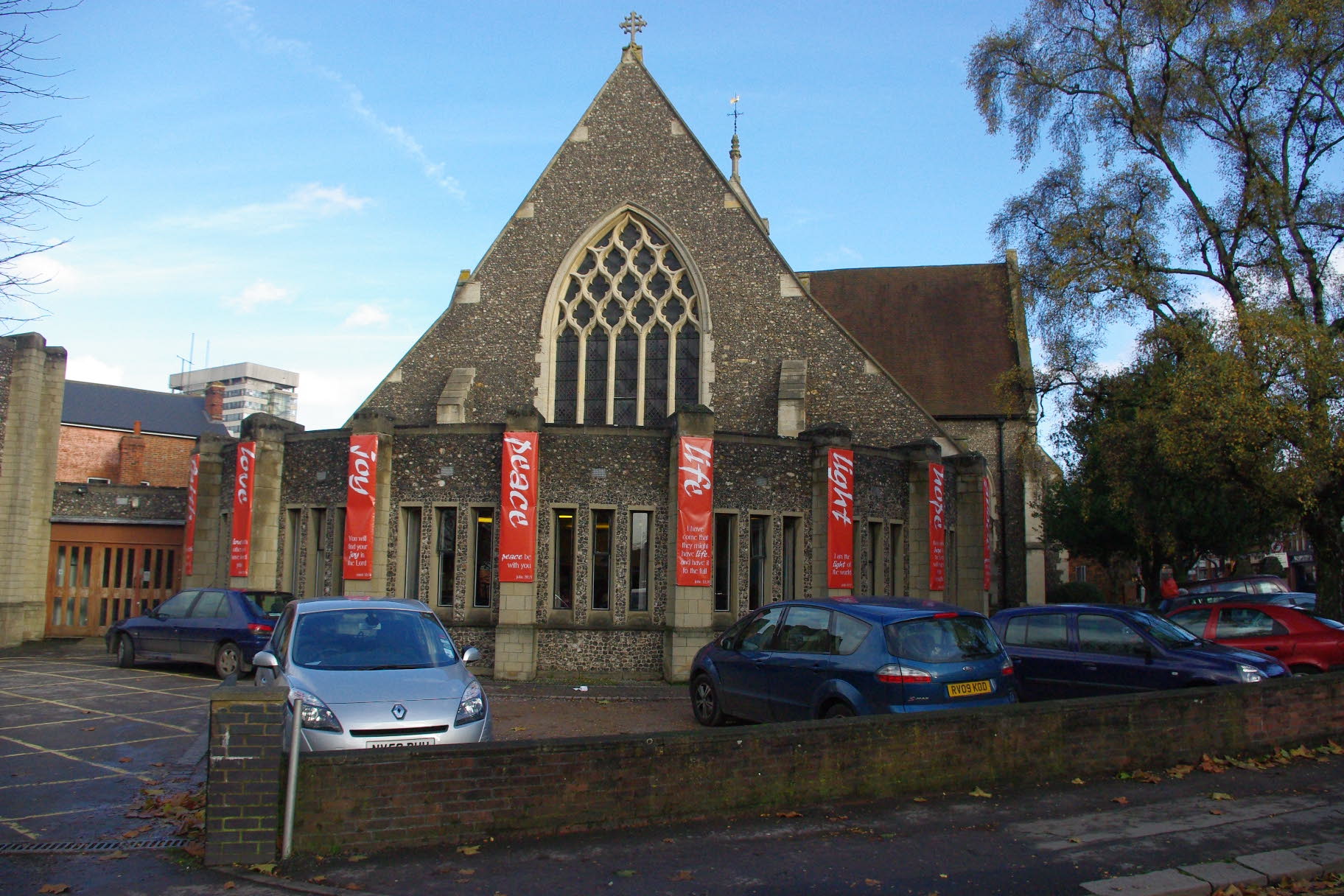 The Church is located at the west end of Friar Street
The main War Memorial is a Prayer Roll (WM5206) compiled during the war to record the names of men from the parish who were serving.
There are two more memorials:-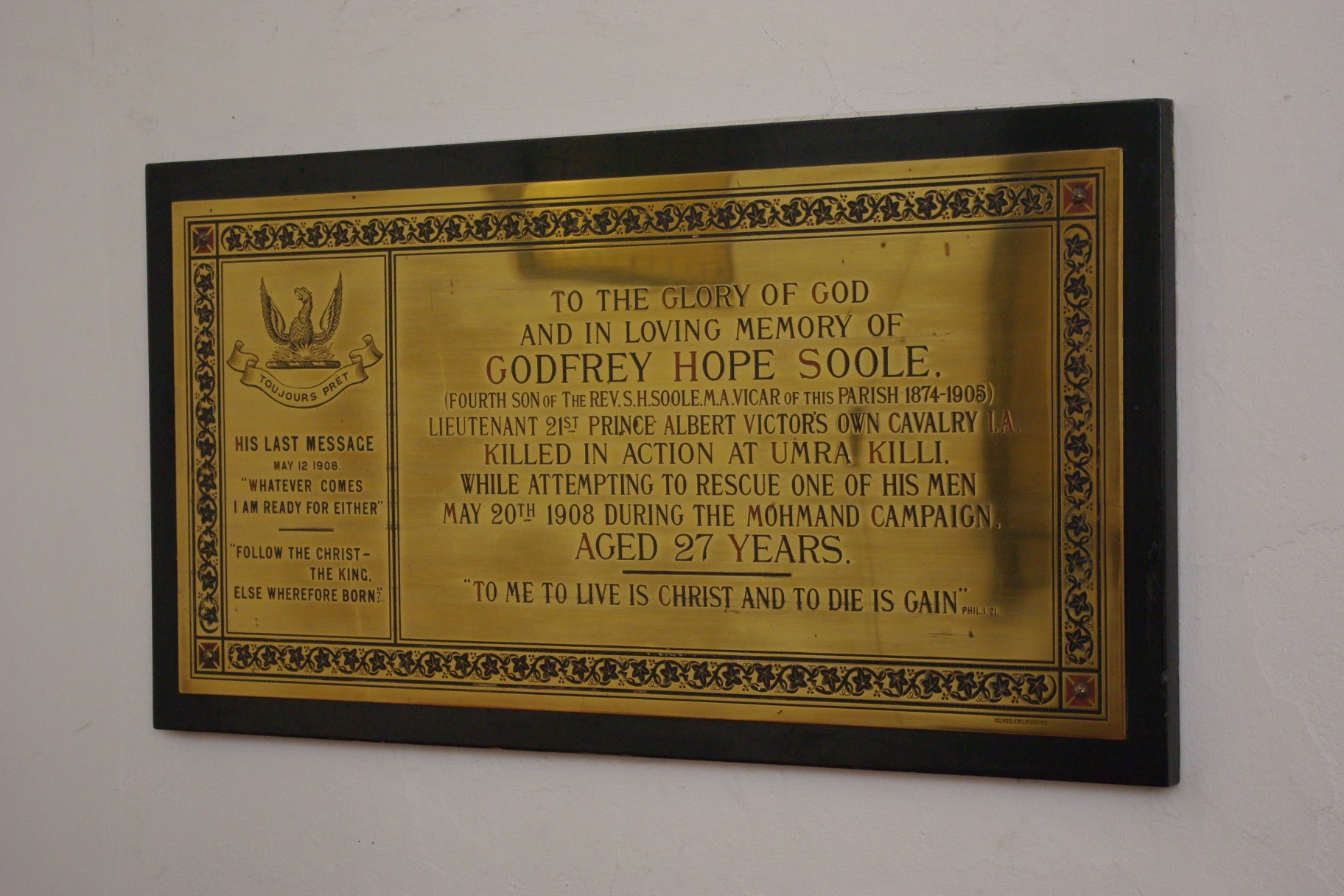 The first is to Godfrey Hope Soole (WM6112)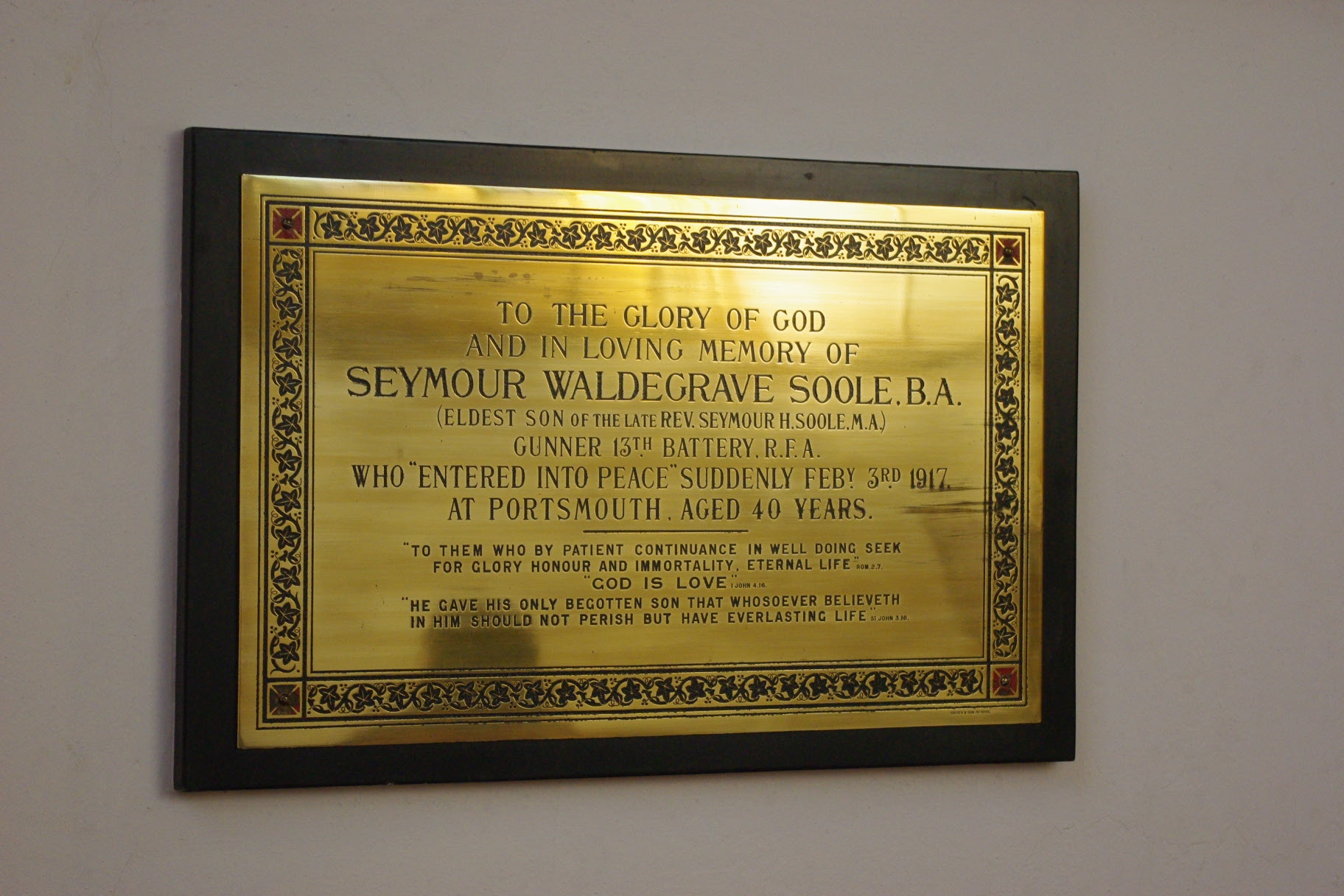 and the second to his brother Seymour Hope Soole (WM6194), both sons of a former Rector

Back to top »
Below you will see a table listing the men who appear on the memorial(s). However please note the following
Some men will appear several times either because they appear on two or more memorials, or they have served under two or more numbers or units or because they are recorded under two or more addresses. These categories will multiply up.
Most dates will be written in the international form of YYYYMMDD
Men whose names appear
WM
Surname
Forenames
Number
Unit
house
street
town
died
<! INSERT TABLE HERE>
5206
Albury
Sydney
unknown
RAVC
189
Oxford Rd
Reading
5206
Allen
Leslie
officer
R Berks
Reading
5206
Allen
William Walker
201977
R Berks
2
Western Rd
Reading
5206
Allen
William Walker
5772
R Berks
2
Western Rd
Reading
5206
Amps
Sidney
-995
RASC
5206
Angliss
Benjamin Ernest
22269
Ox & Bucks
21
Louth St
Caversham
19160901
5206
Angliss
F G
unknown
Bedfords
Reading
5206
Archer
Sidney William
7574
Ox & Bucks
24
Newport Rd
Reading
19171130
5206
Archer
Sidney William
7574
Ox & Bucks
14
Clifton Terr
Reading
19171130
5206
Archer
William
unknown
Worcesters
24
Newport Rd
Reading
5206
Baker
Thomas
unknown
Middx regt
80
Great Knollys St
Reading
5206
Baker
Thomas W
unknown
RE
80
Great Knollys St
Reading
19171231
5206
Barnes
Charles
unknown
RN
Reading
5206
Barnes
George
unknown
Londons
Reading
5206
Barnes
James Basden
unknown
W Kent
Reading
5206
Bayley
Frank
unknown
unknown
Reading
5206
Beard
Alfred Harold
unknown
unknown
48
Chatham St
Reading
5206
Beardmore
William
unknown
RGA
Reading
19170821
5206
Beardmore
William
207925
RASC
Reading
19170821
5206
Bell
Arthur Lyndon
officer
Seaforths
Reading
5206
Bell
Arthur Lyndon
officer
Seaforths
Reading
5206
Bell
Colin Lynden
officer
unknown
Reading
5206
Bell
Lynden
unknown
RAMC
Reading
5206
Benham
William Henry
unknown
RMLI
Chatham St
Reading
5206
Benham
A
unknown
RMLI
57
Charles St
Reading
5206
Benham
Lionel Percy
unknown
RN
74
Chatham St
Reading
5206
Bennett
Herbert George
unknown
Wiltshires
4
Marsack St
Caversham
5206
Bennett
Archie
unknown
RN
Reading
5206
Bird
Arthur Wheen
officer
R Berks
5206
Bird
Arthur Wheen
-995
Artists Rifles
5206
Blackwell
Stephen
201604
R Berks
43
Weldale St
Reading
5206
Booker
A
unknown
RGA
17
York Rd
Brentford
5206
Booker
A
unknown
QO Oxon Huss
Linden Hill Lodge
Twyford
5206
Booker
P
unknown
RE
Linden Hill Lodge
Twyford
5206
Booker
R
unknown
KRRC
Linden Hill Lodge
Twyford
5206
Boucher
George
unknown
HLI
Reading
5206
Boultbee
Walter Richard P
officer
RMA
Reading
5206
Bradshaw
unknown
unknown
Reading
5206
Brown
A C Dickson
unknown
Londons
Reading
5206
Brown
J
unknown
Devons
Lower Thorn St
Reading
5206
Browning
George Frederick
unknown
unknown
Reading
5206
Buchanan-Dunlop
Archie
officer
Reading
5206
Buchanan-Dunlop
Colin Napier
officer
RHA
Whitley Rise
Reading
19151014
5206
Buchanan-Dunlop
Colin Napier
officer
RFA
Whitley Rise
Reading
19151014
5206
Buchanan-Dunlop
Donald
officer
Reading
5206
Bunce
C
unknown
RASC
9
Newport Rd
Reading
5206
Burchell
Herbert Peter
unknown
RHA
Great Knollys St
Reading
5206
Burchell
Herbert Peter
unknown
TM Batt
Great Knollys St
Reading
5206
Burchell
Sidney Victor
9817
Ox & Bucks
85
Great Knollys St
Reading
19170429
5206
Burton
Richard
unknown
Leicesters
Reading
5206
Butler
George
unknown
RN
Reading
5206
Butler
Maurice Aubrey
unknown
RAMC
37
Weldale St
Reading
5206
Butler
Maurice
unknown
RN
Reading
5206
Butler
Frank Tuce
unknown
R Welch F
37
Weldale St
Reading
5206
Butler
Frank Tuce
unknown
Irish Drag
37
Weldale St
Reading
5206
Butler
Frederick George
31180
R Berks
11
Weldale St
Reading
19180504
5206
Cash
William
unknown
unknown
Reading
5206
Chandler
J J
unknown
RAMC
Caversham Rd
Reading
xn
5206
Chaplin
A J
unknown
R Warwicks
8
Great Knollys St
Reading
5206
Chaplin
E A
unknown
MGC
8
Great Knollys St
Reading
5206
Chapman
Archie
unknown
unknown
Reading
d
5206
Clacey
Harold
unknown
Coldstream G
Reading
5206
Clarke
E J
unknown
Essex
32
Newport Rd
Reading
5206
Cobb
Arnold
officer
R Berks
Shiplake Lodge
Westwood Rd
Tilehurst
5206
Cobb
Reginald
officer
Liverpool
Shiplake Lodge
Tilehurst
19161013
5206
Cobb
Reginald
officer
R Berks
Shiplake Lodge
Tilehurst
19161013
5206
Coleman
Alfred
unknown
R Berks
Reading
d
5206
Collins
George James
unknown
RE
10
Battle St
Reading
5206
Cooper
Richard Arthur
unknown
unknown
Reading
5206
Cooper
Richard Arthur
unknown
Reading
5206
Corke
William James
unknown
RASC
7
Howard St
Reading
5206
Coxhead
Harold A
3289
R Berks
52
Newport Rd
Reading
5206
Coxhead
Harold A
200976
R Berks
52
Newport Rd
Reading
5206
Cozens
William
unknown
RFA
Reading
5206
Cozens
Leonard
unknown
Ox & Bucks
Reading
5206
Cozens
Rowland
-995
RAMC
33
Weldale St
Reading
5206
Daniels
W J
unknown
R Berks
Reading
5206
Daniels
W J
unknown
R Berks
Reading
5206
Darling
Horace
unknown
RE
Reading
5206
Darling
Lewis
unknown
unknown
Reading
5206
Davies
Mersom
officer
Indians
Reading
xn
5206
Dean
unknown
Queen's Bays
Reading
5206
Dean
George
unknown
RN Regt
Reading
5206
Dee
Frederick
unknown
RASC
8
Newport Rd
Reading
5206
Dell
Arthur George
-995
RASC
29
Thorn St
Reading
5206
Dell
Charles
unknown
RN
29
Thorn St
Reading
5206
Dell
Harry
unknown
Ox & Bucks
29
Thorn St
Reading
5206
Didcock
F
unknown
RGA
Spencers Wood
5206
Didcock
J
unknown
RN
Spencers Wood
xn
5206
Doe
Albert A
201303
R Berks
Reading
5206
Dormer
Ernest George
unknown
Red Cross
3
Vachel Rd
Reading
5206
Dredge
Reginald John
70765
RASC
5206
Dredge
Reginald John
38924
R Berks
5206
Dunster
Frank Cobden
unknown
unknown
Caversham
5206
Dunster
Jack
unknown
unknown
56
Oxford Rd
Reading
5206
Dunster
Leonard
unknown
unknown
Reading
5206
Duquid
Alfred A
unknown
RN
96
Wantage Rd
Reading
5206
Duquid
Charles Tracey
unknown
Berks Yeom
98
Wantage Rd
Reading
5206
Duquid
Leslie W J
unknown
Berks Yeom
96
Wantage Rd
Reading
5206
Eam
Eric
unknown
unknown
Reading
5206
Easter
Alec
unknown
RASC
Reading
5206
Ecles
Frederick
unknown
RN
82
Weldale St
Reading
5206
Eeles
Arthur
11021
Coldstream G
82
Weldale St
Reading
19171127
5206
Eighteen
Charles
unknown
RNAS
Reading
5206
Ellis
Harold L
unknown
RHA
195
Oxford Rd
Reading
d
5206
Elvin
Albert Claude
unknown
RAMC
Reading
5206
Elvin
Cecil Henry
unknown
RE
88
George St
Reading
5206
Ewers
W
unknown
RE
30
William St
Reading
5206
Ewers
W T
unknown
RASC
30
William St
Reading
5206
Ewers
Walter
unknown
RHA
Reading
xn
5206
Exler
Frank
officer
unknown
Reading
5206
Eyre
Arthur
unknown
RFC
28
Newport Rd
Reading
5206
Farquharson
Graham
unknown
RN
Reading
5206
Farquharson
Harry
unknown
RMLI
Reading
5206
Filmore
Arthur Fuce
3309
R Berks
38
York Rd
Reading
5206
Filmore
Frederick M
2424
R Berks
38
York Rd
Reading
5206
Filmore
Frederick M
officer
Lincolns
38
York Rd
Reading
5206
Filmore
Frederick M
200418
R Berks
38
York Rd
Reading
5206
Filmore
Horace William
3271
R Berks
38
York Rd
Reading
19160723
5206
Filmore
Arthur Fuce
37660
R Berks
38
York Rd
Reading
5206
Fraser
E
unknown
RE
5
Letcombe St
Reading
5206
French
C
unknown
Queen's Bays
Reading
5206
Gant
Francis Marshall
unknown
unknown
The Limes
Basingstoke Rd
Reading
5206
Garrett
George H
-995
DCLI
13
West St
Reading
5206
Garrett
George H
31666
R Berks
13
West St
Reading
5206
Gear
L H W
unknown
Worcesters
Reading
5206
Gee
Francis W
unknown
RHA
89
Great Knollys St
Reading
5206
Gee
William H
137851
RE
71
Great Knollys St
Reading
19170920
5206
Gee
Walter Gilbert
unknown
RE
71
Great Knollys St
Reading
5206
Gibbs
A C H
officer
Australians
Cemetery Lodge
Reading
5206
Gibbs
W
unknown
unknown
Reading
5206
Gilkes
Herbert Wade
unknown
Rifle Bde
49
Christchurch Rd
Reading
5206
Gilkes
Herbert Wade
unknown
KRRC
49
Christchurch Rd
Reading
5206
Gilkes
Herbert Wade
unknown
KRRC
Basingstoke Rd
Reading
5206
Gilkes
Herbert Wade
unknown
Rifle Bde
Basingstoke Rd
Reading
5206
Gilmore
Edward
unknown
unknown
Reading
5206
Gilmore
Hugh Fraser
unknown
unknown
Reading
5206
Goddard
C
unknown
Berks Yeom
108
Belmont Rd
Reading
5206
Goodall
Norman Jules
36524
RN
20
Weldale St
Reading
5206
Grant
Donald Farquharson
officer
RFA
Glebe Rd
Reading
5206
Green
Frederick William
9935
R Berks
27
Caversham Rd
Reading
19150925
5206
Green
William S
unknown
Lab Corps
Surley Row
Caversham
5206
Griffiths
Alfred Edward
unknown
Essex
4
Great Knollys St
Reading
5206
Griffiths
Walter Francis
unknown
RE
71
Great Knollys St
Reading
5206
Gutch
Cecil Gowland
2538
R Berks
Fairlight
Basingstoke Rd
Reading
5206
Gutch
Cecil Gowland
200481
R Berks
Fairlight
Basingstoke Rd
Reading
5206
Hall
Percy
unknown
unknown
Reading
5206
Hallen
George
unknown
HAC
Reading
xn
5206
Halliday
T
unknown
R Berks
Reading
5206
Halliday
T
unknown
R Berks
Reading
5206
Hammond
Sidney Herbert Joseph
33289
Ox & Bucks
11
Princes St
Reading
19161113
5206
Hammond
Sidney Herbert Joseph
25961
R Berks
2
Freshwater Rd
Reading
19161113
5206
Hammond
Sidney Herbert Joseph
25961
R Berks
11
Newport Rd
Reading
19161113
5206
Hammond
Sidney Herbert Joseph
25961
R Berks
11
Princes St
Reading
19161113
5206
Hammond
Sidney Herbert Joseph
33289
Ox & Bucks
2
Freshwater Rd
Reading
19161113
5206
Hammond
Albert
unknown
RGA
11
Newport Rd
Reading
5206
Hammond
Albert
unknown
RGA
Mons Retreat
Woodley
5206
Hammond
Sidney Herbert Joseph
33289
Ox & Bucks
11
Newport Rd
Reading
19161113
5206
Hancock
Ralph
unknown
unknown
Reading
5206
Harding
E
unknown
RHA
65
Carlisle Rd
Reading
5206
Harding
E
unknown
RHA
3
Vachel Rd
Reading
5206
Harms
Claude
unknown
RMA
Reading
5206
Harrison
J S
officer
Dorsets
Reading
5206
Hartcup
Montague H
unknown
RASC
Reading
xn
5206
Hearn
Harold
unknown
RE
Reading
5206
Heath
Leonard Caleb
unknown
unknown
34
William St
Reading
5206
Heckman
Percy
unknown
unknown
Reading
5206
Hedderley
George
unknown
unknown
Reading
5206
Henson
unknown
R Berks
Reading
5206
Herbert
George
officer
unknown
Reading
5206
Herbert
Joseph
unknown
RAMC
Reading
5206
Herbert
Reginald
unknown
Essex
102
Weldale St
Reading
5206
Herbert
Charles
unknown
RASC
Reading
5206
Hicks
Ernest
unknown
RAVC
Reading
5206
Higgs
Joseph E
unknown
RN
18
Vachel Pl
Reading
5206
Hiles
A
6281
R Berks
59
Swansea Rd
Reading
5206
Hill
W
unknown
RASC
25
William St
Reading
5206
Hill
A G F
unknown
RASC
25
William St
Reading
5206
Hill
William Connington (Crumplin)
70136
Berks Yeom
25
William St
Reading
5206
Hill
William Connington (Crumplin)
2138
Berks Yeom
25
William St
Reading
5206
Hill
William Connington (Crumplin)
165263
MGC
25
William St
Reading
5206
Hill
Walter
unknown
unknown
Reading
5206
Hill
H C
unknown
RE
Reading
5206
Hill
Arthur
unknown
RASC
Reading
5206
Hill
A G F
unknown
RASC
25
William St
Reading
5206
Hill
Albert
unknown
unknown
Reading
5206
Hill
H C
unknown
RE
Reading
5206
Hinson
Percy
200228
R Berks
22
Addison Rd
Reading
5206
Hinson
Percy
1997
R Berks
22
Addison Rd
Reading
5206
Hinson
Sidney
unknown
unknown
Reading
5206
Holdway
Charles
5333
R Berks
5206
Hollis
Harry
unknown
Shropshire Yeom
Reading
5206
Hopkins
Percival
unknown
HAC
Reading
5206
Hopkins
William
unknown
unknown
Reading
5206
Hopkins
Frank
unknown
unknown
86
Weldale St
Reading
5206
House
Frederick Arthur J
unknown
Lancs F
91
Lower Thorn St
Reading
5206
Howland
Cecil Edward
unknown
RN
Reading
5206
Hunt
Arthur Frederick
unknown
Liverpool
Reading
5206
Jackson
Thomas Edwin
unknown
RN
22
George St
Reading
5206
James
William
unknown
RN
41
Swansea Rd
Reading
5206
James
William
unknown
RDC
41
Swansea Rd
Reading
5206
James
William
unknown
RDC
41
Swansea Rd
Reading
5206
James
William
unknown
RN
41
Swansea Rd
Reading
5206
Jarman
Andrew
unknown
N'humber Fus
Reading
5206
Johnson
Ernest R
33238
Ox & Bucks
Reading
5206
Johnson
Hector
unknown
unknown
Reading
5206
Jones
J C
unknown
RASC
Reading
5206
Jones
Maiwand Alfred
8479
R Berks
Reading
19150509
5206
Kennington
F Reginald
officer
W Yorks
82
Wantage Rd
Reading
5206
Kent
Godfrey
unknown
R Warwicks
Reading
5206
Kitt
unknown
RE
Reading
5206
Knapp
William
unknown
unknown
22
Caversham Rd
Reading
5206
Langdon
Douglas
unknown
HAC
Reading
5206
Lawrence
A E
unknown
unknown
Reading
5206
Lawrence
Fred
unknown
unknown
Reading
5206
Lawrence
W H
unknown
KRRC
Reading
5206
Lawrence
W R
unknown
Londons
29
Weldale St
Reading
5206
Lawrence
W R
unknown
Londons
29
Weldale St
Reading
5206
Laws
George
unknown
Hants
Reading
5206
Leach
Harold
7309
SWB
153
Great Knollys St
Reading
19150508
5206
Leach
Harold
7309
SWB
1
Letcombe St
Reading
19150508
5206
Lester
V
unknown
R Berks
Reading
5206
Lester
Herbert William
unknown
Berks Yeom
81
Bedford Rd
Reading
5206
Lester
V
unknown
R Berks
Reading
5206
Lester
Albert
2262
R Berks
66
York Rd
Reading
19170403
5206
Lester
Albert
200345
R Berks
66
York Rd
Reading
19170403
5206
Lester
Herbert William
unknown
Berks Yeom
81
Bedford Rd
Reading
5206
Lewer
Ernest W
38640
RN
27
Caversham Rd
Reading
19190318
5206
Lewer
Ernest W
unknown
R Fus
27
Caversham Rd
Reading
19190318
5206
Lewer
Ernest W
38640
RN
Wokingham
19190318
5206
Lewer
Ernest W
unknown
R Fus
Wokingham
19190318
5206
Lewis
Claud
unknown
unknown
Reading
5206
Lindars
Vernon William
unknown
RHA
29
Mansfield Rd
Reading
5206
Lovelock
Frederick Albert
88714
RFA
Frouds Lane
Aldermaston
19150808
5206
Lovelock
Frederick Albert
88714
RFA
Great Bedwyn
19150808
5206
Lovelock
Frederick Albert
88714
RFA
Sackville St
Reading
19150808
5206
Lowe
Percy
unknown
unknown
Reading
5206
Lumb
Stanley
unknown
unknown
Reading
5206
Mansford
Arthur
unknown
RN
Reading
5206
Martin
Harold
unknown
unknown
Reading
19160804
5206
Mayhew
Arthur J
unknown
R Berks
Reading
5206
Mayhew
Arthur J
unknown
R Berks
Trifle Cottage
Bradfield
5206
Mayhew
Arthur J
unknown
R Berks
Trifle Cottage
Bradfield
5206
Mayhew
Arthur J
unknown
R Berks
Reading
5206
Middleton
George
unknown
RASC
3
North St
Reading
5206
Mills
G H
unknown
RE
82
George St
Reading
5206
Mockford
William
unknown
Devons
Reading
5206
Montague
Victor
2228
R Berks
Reading
5206
Montague
George
unknown
Gren G
46
Belmont Rd
Reading
5206
Montague
Victor
200326
R Berks
Reading
5206
Moon
R
officer
unknown
Reading
5206
Morton
Brooke
unknown
RASC
Reading
5206
Morton
Gerald Arthur
officer
Border
Cintra Ave
Reading
19150504
5206
Mutlers
C
unknown
Manchesters
53
Weldale St
Reading
5206
Mutlers
J
unknown
RHA
53
Weldale St
Reading
5206
Mylum
Percy
unknown
RE
55
Weldale St
Newbury
5206
Mylum
Percy
unknown
RE
151
Chatham St
Reading
5206
Mylum
William Charles
unknown
RASC
55
Weldale St
Reading
5206
Naylor
M
unknown
unknown
Reading
5206
Newbery
Reginald Victor
unknown
unknown
19
The Mount
Caversham
5206
Newbery
Sidney Wilfred
officer
MGC
19 Montrane
The Mount
Caversham
5206
Newbury
S
officer
MGC
19 Montrane
The Mount
Caversham
5206
Newman
Frank
unknown
RHA
647
Oxford Rd
Tilehurst
5206
Norman
Arthur
unknown
Wiltshires
Reading
5206
Norrie
C E
unknown
Indians
Reading
5206
Orchard
John H
550136
Londons
Reading
19170814
5206
Palmer
A E
unknown
RAVC
39
Weldale St
Reading
5206
Palmer
Stanley Arthur
officer
Ox & Bucks
39
Weldale St
Reading
5206
Pardery
L A
unknown
Hants
21
Weldale St
Reading
5206
Pendery
Leonard Amos
unknown
R Warwicks
21
Weldale St
Reading
5206
Perris
Joseph
unknown
unknown
Reading
5206
Phillips
Ralph
unknown
RASC
15
Newport Rd
Reading
5206
Pike
Samuel Aitken
officer
R Berks
13 St Clair
Tilehurst Rd
Reading
d
5206
Pitman
W E
unknown
Londons
60
Bedford Rd
Reading
5206
Powell
Arthur
unknown
RN
Reading
5206
Prismall
Guy Ernest
unknown
unknown
Reading
5206
Provost
Alfred
unknown
Australians
Reading
5206
Provost
John
unknown
Australians
Reading
5206
Richardson
Daryl Stewart
officer
Border
Reading
19150516
5206
Richardson
Daryl Stewart
officer
Border
Bishops Down Grange
Tunbridge Wells
19150516
5206
Robbins
Percival John
unknown
RN
11
Stanley Grove
Reading
5206
Robertson
F C
unknown
Cameronians
Reading
5206
Robinson
Frederick W T
200905
R Berks
6
Newport Rd
Reading
5206
Robinson
W A C
unknown
Devons
6
Newport Rd
Reading
5206
Rogers
H G
unknown
W Kent
Reading
5206
Rose
David William
unknown
Ox & Bucks
9
Hope St
Reading
5206
Rose
Henry Charles
unknown
R Berks
13
Great Knollys St
Reading
5206
Rose
Charles
unknown
R Berks
Reading
5206
Sarsfield
P
unknown
unknown
Reading
5206
Scamons
F W
unknown
Lincs Yeom
Reading
5206
Scamons
J H
officer
Leicesters
Reading
5206
Searle
Samuel
15624
RMLI
79
Great Knollys St
Reading
5206
Sedgebeer
Alfred Philip
unknown
Berks Yeom
181
Great Knollys St
Reading
5206
Sedgebeer
Alfred Philip
unknown
Berks Yeom
181
Great Knollys St
Reading
5206
Sedgebeer
Arthur George Edward
unknown
Berks Yeom
181
Great Knollys St
Reading
5206
Sedgebeer
Arthur George Edward
unknown
Berks Yeom
181
Great Knollys St
Reading
5206
Seward
Albert E
41822
R Berks
46
Bedford Rd
Reading
19180327
5206
Seward
Albert E
71322
Berks Yeom
46
Bedford Rd
Reading
19180327
5206
Seymour
Richard
unknown
R Warwicks
5
Caroline St
Reading
5206
Shepherd
Frederick Henry
unknown
R Warwicks
6
Somerset Pl
Reading
d
5206
Show
William
unknown
11th Hussars
Reading
5206
Silver
unknown
Life Gds
Reading
5206
Simpson
Alfred Henry
-995
Dorsets
145
Elgar Rd
Reading
5206
Simpson
Alfred Henry
10004
R Berks
145
Elgar Rd
Reading
5206
Sims
Arthur Alfred
37257
R Berks
Beenham
19170816
5206
Sims
Arthur Alfred
37257
R Berks
49
Great Knollys St
Reading
19170816
5206
Slade
Basil Workman
1855
Berks Yeom
18
Mansfield Rd
Reading
5206
Sleep
George
unknown
RNAS
Reading
5206
Smith
William
unknown
Canadians
12
York Pl
Reading
5206
Smith
William
unknown
Canadians
Reading
5206
Smith
Walter
unknown
R Berks
Reading
5206
Smith
T R
unknown
1st K Ed Horse
Reading
5206
Smith
Barnard
unknown
R Scots F
Reading
5206
Smith
Thomas J
unknown
RASC
12
York Pl
Reading
5206
Smith
William George
unknown
unknown
44
De Beauvoir Rd
Reading
5206
Smithers
J W
unknown
RASC
23
Newport Rd
Reading
5206
Snow
Frank
unknown
RE
82
Wantage Rd
Reading
5206
Sollervey
A
unknown
R Scots F
Reading
5206
Soole
Seymour Waldegrave
199044
RFA
Sunnyhome
Castle Cres
Reading
19170203
6194
Soole
Seymour Waldegrave
199044
RFA
Sunnyhome
Castle Cres
Reading
19170203
6112
Soole
Godfrey Hope
officer
21st Lancers
Reading
19080520
5206
Soole
W Bathurst
unknown
RGA
St John's Vicarage
Mansfield
5206
Soole
W Bathurst
unknown
RGA
Sunnyholme
Reading
5206
Sparks
Charles
unknown
RASC
17
Stanshawe Rd
Reading
5206
Sparks
Ernest
unknown
RASC
17
Stanshawe Rd
Reading
5206
Sparks
Frederick William James
202790
R Berks
17
Stanshawe Rd
Newbury
19170801
5206
Sparks
Frederick William James
202790
R Berks
57
Weldale St
Reading
19170801
5206
Spokes
E
unknown
Reading
5206
Spokes
E
unknown
unknown
Reading
5206
Stevens
Rowland James
unknown
Tank C
22
Chester St
Tilehurst
m
5206
Stevens
Percy James
25611
R Berks
31
Weldale St
Reading
19170509
5206
Stewart
Charles
unknown
W Riding
Reading
5206
Stow
J W
unknown
unknown
Reading
5206
Strange
Alfred John
unknown
RAMC
10
North St
Reading
5206
Stroud
Archibald William
unknown
Londons
65
Beecham Rd
t
5206
Stuckey
unknown
unknown
Reading
5206
Sutton
Gordon
unknown
Canadians
Reading
5206
Sutton
Noel
officer
unknown
Reading
5206
Sutton
Eustace M
unknown
RE
Hillside
Wantage Hall
Reading
19180324
5206
Sutton
Eric Guy
officer
R Sussex
19160406
5206
Sutton
Basil
unknown
unknown
Reading
5206
Sutton
Basil
unknown
Reading
5206
Sutton
Victor
unknown
unknown
Hillside
Reading
kia
5206
Taylor
H
unknown
unknown
Reading
5206
Thackway
A W
unknown
RAMC
Reading
5206
Thatcher
George
unknown
Lab Corps
19 or 16
Caroline St
Reading
5206
Tilmore
A
unknown
R Berks
Reading
5206
Tilmore
H
unknown
R Berks
Reading
5206
Tilmore
H
unknown
R Berks
Reading
5206
Tilmore
M
unknown
RE
Reading
5206
Titcomb
Ernest James
7868
Londons
8
Beck St
Hackney
19161007
5206
Titcomb
A
unknown
MGC
38
Newport Rd
Reading
5206
Titcomb
Ernest James
7868
Londons
38
Newport Rd
Reading
19161007
5206
Titcomb
H
unknown
Wiltshires
38
Newport Rd
Reading
5206
Trewin
unknown
RN
Reading
5206
Trewin
unknown
unknown
Reading
5206
Tucker
Thomas R
669440
Canadians
12
York Pl
Reading
19170409
5206
Turner
Edward George
unknown
Berks Yeom
8
North St
Reading
5206
Turner
J
unknown
RASC
8
North St
Reading
5206
Vickers
Sidney
unknown
unknown
Reading
5206
Vincent
Henry James
unknown
RFA
139
Elgar Rd
Reading
5206
Walker
Frank Percival Bamsey
unknown
RE
26 Boars Head
Friar St
Reading
5206
Walker
Lionel Arthur
7097
HAC
Friar St
Reading
19170503
5206
Walker
Percy Frank
unknown
APC
26a
Friar St
Reading
5206
Warwick
James Henry
unknown
HAC
Reading
5206
Warwick
A E
unknown
RAOC
1
Norwood Rd
Reading
5206
Waters
Thomas
unknown
R Berks
25
Alfred St
Reading
5206
Waters
Thomas
unknown
R Berks
25
Alfred St
Reading
5206
Watson
officer
Indians
Reading
5206
Watson
H D
unknown
unknown
Reading
5206
Watson
R L
officer
R Berks
5206
Webber
H P
unknown
Coldstream G
Reading
5206
Weldon
Arthur Stewart
officer
N Staffs Regt
Erlimount
Earley
19170325
5206
Weldon
Bertram
unknown
Lancs F
Reading
5206
Weldon
Ernest S
officer
Dorsets
Erlimount
Earley
d
5206
Weldon
H T
unknown
Leinsters
Reading
5206
Weldon
K C
officer
R Warwicks
Reading
5206
Wellman
David John
3614
R Berks
51
Weldale St
Reading
19160716
5206
Wells
A J
unknown
unknown
Reading
5206
Welman
Victor
unknown
RE
Reading
5206
Welman
Thomas
unknown
RE
Reading
5206
Wenham
W
unknown
R Berks
Reading
5206
Wenham
W
unknown
R Berks
Reading
5206
Westoby
A G
unknown
unknown
Reading
5206
Whale
John
unknown
RN
Reading
5206
White
Reginald
unknown
RFC
Reading
5206
White
Stanley
unknown
RFC
Reading
5206
Wichelow
P
unknown
Somerset LI
52
Newport Rd
Reading
5206
Wichelow
S
unknown
RE
52
Newport Rd
Reading
5206
Wicks
Edward
200194
R Berks
47
Weldale St
Reading
19170820
5206
Wicks
William
unknown
unknown
1
York Pl
Reading
5206
Willis
James
unknown
13th Hussars
5206
Willmott
unknown
unknown
Reading
5206
Wise
George Edward
unknown
RN
Reading
5206
Wise
Gordon
unknown
unknown
Reading
5206
Wise
Howard
-995
RASC
Reading
5206
Woodman
Guy Henry
unknown
RFC
Reading
5206
Young
Edward
unknown
R Berks
88
Weldale St
Reading
5206
Young
Edward
unknown
R Berks
88
Weldale St
Reading
5206
Young
Frank
unknown
Northants
Reading
<! END OF TABLE>

2011 - © Berkshire Archaeological Society