Berkshire War Memorials
BRACKNELL FOREST - Bracknell Town
When Bracknell Town was formed it included the whole of Easthampstead Parish and the majority of Bracknell Parish as well as parts of Warfield, Binfield and Winkfiel The area includes Bullbrook, Easthampstead, Priestwood, Heathlands, South Hill and Martins Heron
See the
Bracknell Town Council's
Website
To see the list of names on the towns memorials click on
Town War Memorial
(WM5364)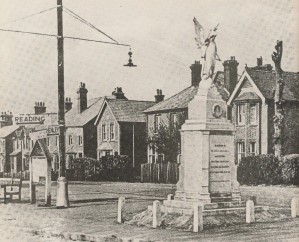 The War Memorial was originally located at the entrance to the town, where Binfield and Wokingham Roads met.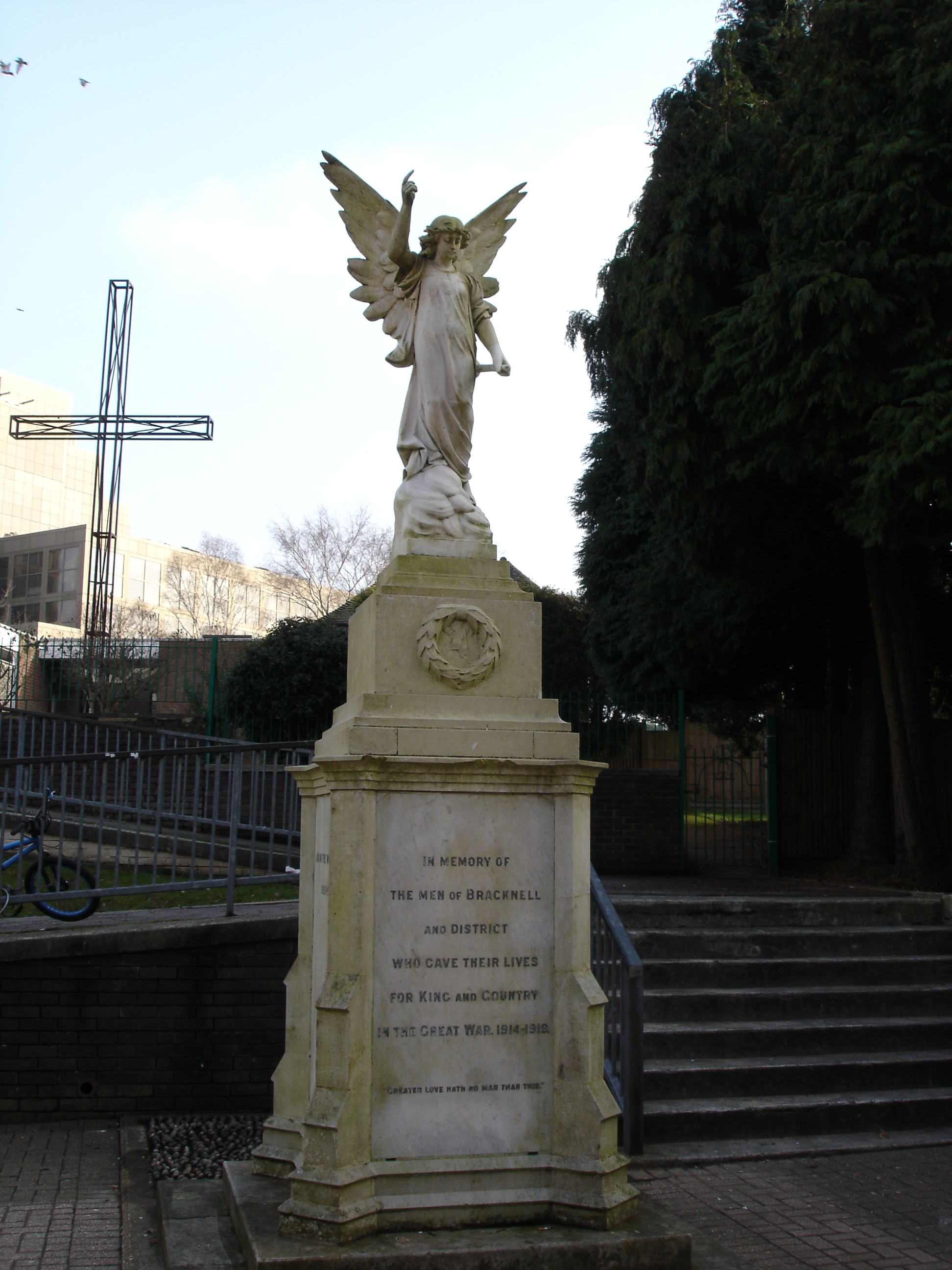 In the 1950s it was moved to its present site outside St Joseph's Church
Holy Trinity Church, Bracknell
WW1 Memorial (WM5374)
57 names on five wooden panels. Dedicated 20/3/1921

WW2 Memorial (WM7035)

Gregory Memorial (WM6155) In memory of Ronald Christoper Gregory died 8/9/14


St Pauls United Reform Church, Harmanswater
WW1 Memorial (WM5373)
The memorial was formerly in Bracknell Congregational Church which stood on High St. It was unveiled 5/11/1919 and was moved to St Paul's URC Church in the 1950s.

A marble tablet with 9 names of men who died and 35 names of men who served.

WW2 Memorial (WM7036) A marble tablet with two names of men who died


St Michael and St Mary's Church, Easthampstead
Easthampstead Parish used to include Priestwood which had a seprate church.
WW1 Memorial (WM5588)>

A marble tablet bearing 65 names with their units. The names are the same as on the monument in the churchyard and it was unveiled 2/7/1921

Harris Memorial (WM6171)
In memory of Frederick William Harris died 20/10/16

Hollinger Memorial (WM6172)
In memory of Hollings died 19/7/16

Maxwell Memorial (WM6173)
In memory of Charles William Maxwell died 23/11/14


St Mary and St Michael Churchyard
Easthampstead Monument )(WM5011)

A stone Cross bearing 65 names

The Graves of:
David Charles Lassam
Alfred Henry Davis (not located)
Joseph Henry Mills
John Edward Murphy
J F Quick
L Rainford
George White

Ranelagh School
(WM7037)
The Roll of Honour is located in the school hall. It bears 15 names.
Bracknell Bowling and Social Club
(WM7038)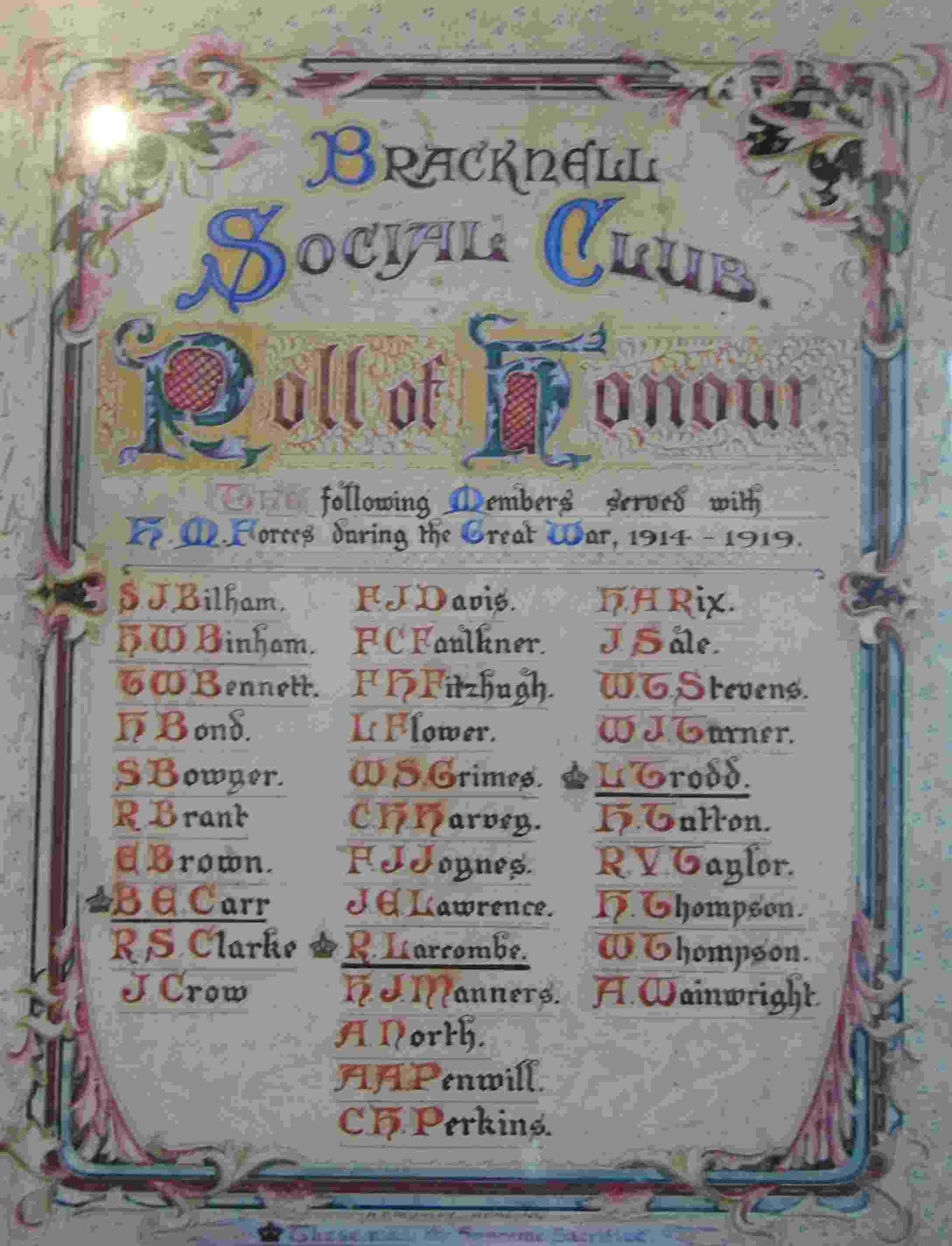 The Roll of Honour is framed and hangs in the foyer of the club. It included the names of 33 who served including 3 who died. (photo Andrew Radgick)
Bracknell and District Working Men's Club
(WM7039)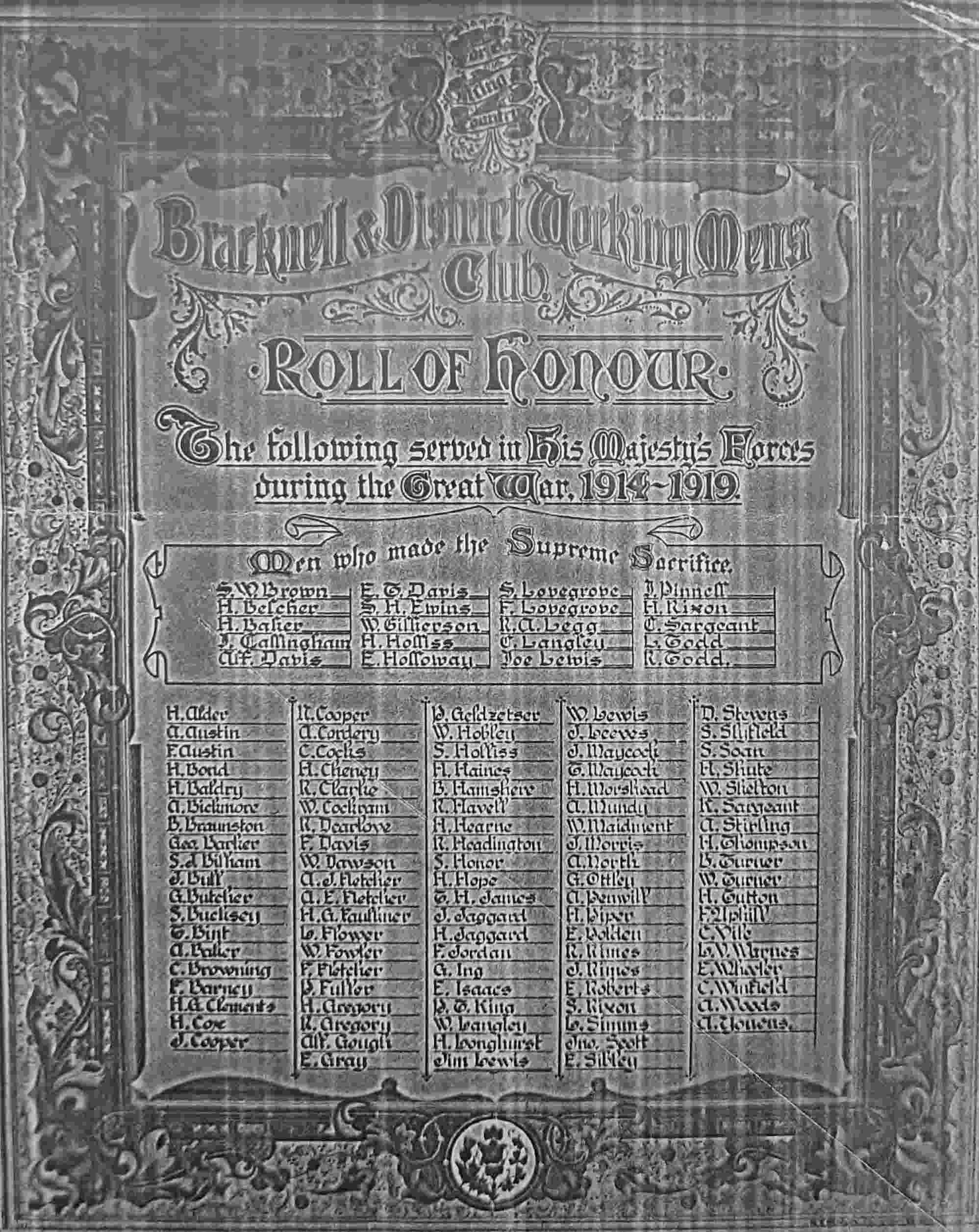 (photo Andrew Radgick)
The Club used to stand on Stanley Road. The memorial listed 117 who served including 20 who died. The present location of the memorial is not known.

Back to top »

2011 - © Berkshire Archaeological Society