Berkshire War Memorials
READING - Newtown
Newtown was originally constructed to house workers at Huntley and Palmers, however we extend the definition of the area to include the parts of the Borough to the north of the University Whiteknights Campus, west and south of the railway and River Kennet and east of Redlands Road / Watlington St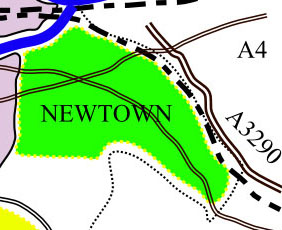 Memorials identified are noted below - you can see more details by clicking on the heading to go to the relevant web page:-
St Bartholomew's Church
The church is located on St Bartholomew's Road, just off London Road.
The WW1 memorial (WM5208) bearing 84 names is just inside the porch.
There are two private memorials inside the church:
James Benjamin Butler (WM6002) - d 8 Jan 1916
Clifford Salmon (WM6006) - d 13 Oct 1915
In addition there are several floor tiles in the chancel which are inscribed with the names of parishioners who died in the wars.


St Luke's Church
The Church is located on Erleigh Road
The WW1 memorial (WM5134) bears 73 names
The Memorial to the Men's Club (WM5622)
and there is one private memorial to Herbert A V Wait (WM6007)- d 2 Dec 1917

Unusually there is also a Peace Window (WM5623) to commemoratev the signing of the Versailles Treaty which ended WW1


Park United Reformed Church
The Church is located on Wokingham Road, just to the east of Palmer Park.
The WW1 memorial (WM5244) bears 8 names


Reading Old Cemetery
located at Cemetery Junction where the A4 crosses the A329
The old Cemetery includes a memorial area maintained by the CWGC .

The area has two memorials for men buried elsewhere in the cemetery. One for men who died of their wounds in Reading (WM5133) and the other for men who died elsewhere (WM5514)

There are many WW1 graves in the cemetery (WM4013)


Reading School (WM5250)
As well as its own WW1 memorial (WM5250) the school chapel also hosts the memorial to the men of Kendrick Boys School (WM5251)


Alfred Sutton School (WM5248)
There is the main WW1 memorial (WM5248) and also one private memorial to teacher E L Davies (WM6014)


Back to top »

2011 - © Berkshire Archaeological Society