Berkshire War Memorials
WINDSOR & MAIDENHEAD - Maidenhead
Maidenhead is large town with a large number of memorials. The town is unparished so we have divided the memorials into groups. Where the location is in capitals you can click on it to move to a new page to see photos and greater detail..
Anglican Churches
All Saints Church
Located on Boyne Hill Road SU 877/809
The WW1 Memorial (WM5602) (WAM129) (N3859)
is a calvary with a wooden plaque with 247 names inside the porch

The WW2 Memorial (WM5603)
is a framed parchment listing 13 names with units

Pyx(N3860)
A hanging pyx with associated plaque

Calvary (N3858)

The All Saints Cemetery (WM4161)
has 14 WW1 burials and 47 WW2 burials


SS Andrew and Mary Magdalen Church
Located at 14 High St SU 870 810 The third church was demolished in 1965 and replaced by the present church.
The WW1 Memorial Window (WM5664) (WAM128) (N9131)
was a stained glass window with a marble tablet bearing 62 names. The memorial is now lost after the third church was demolished

The WW1 Memorial (WM5030)
is a leather bound book with 357 names, kept in a locked cupboard

The WW2 Memorial (WM5604) is a similar leather bound book with 182 names, kept in a locked cupboard

Temporary Cenotaph (N7883)
once located on High Street outside the third church

ST LUKE'S CHURCH
located on St Luke's Road SU 887.517
The WW1 Memorial (WM5605) (WAM131) (N3866)
is a side chapel with a large number of names on a set of wooden panels with a supplementary list (WM5640) on parchment

The WW2 Memorial (WM5606)
is a leather bound book kept in a glass cabinet with 94 names with units

Spindler Memorial (WM6212) (WAM134) (N3868)
is a dedicated font cover

Oakley Memorial (N3867)
A lamp commemorating WW2

St Lukes Cemetery (WM4395)
has one WW2 burial of Anthony Montague Garrett-Cox d 4/8/1944


St Peter's Church
Located on Furze Platt Road SU 876 826
The WW1 Memorial (WM5607) (WAM137) (N3872)
is a marble tablet with 23 names

The WW2 Memorial (WM5608) (N3873)
is a stone tablet with 18 names


Other Churches
St Joseph's Catholic Church
Located on Cookham Road SU889 817
The WW1 Memorial (WM5658) (WAM121) (N3879)
is located in the hall and bears 15 names

Outram Memorial (WM6211) (WAM122) (N3880)
A plaque in the church

High Street Methodist Church
located on High Street SU 886 812
The WW1 Memorial (WM5668) (WAM133) (N3861)
is a marble plaque with 6 names

Holyport Methodist Chapel (N3862)
WW1 plaque brought here when Holybrook Chapel closed

Queen Street Methodist Church
(WM5657) (WAM120)
(N12845)
Located on Queen St
The WW1 memorial , attached to the organ bore 7 names for WW1. When this church closed.in 1969 the organ was moved to Cookham Rise Methodist Church To read more of the history of the church CLICK HERE


Maidenhead Baptist Church
located on Marlow Road SU 885/814
WW1 Memorial (WM5666) (WAM130)(N3876)
is a framed parchment with 11 names

Fletcher and Martin Memorial (WM6295) (WAM139)(N3875)

Maidenhead United Reform Church
located on West St SU 888/813
The WW1 memorial (WM5659) (WAM123)(N3877)
bears 9 names

The WW2 memorial (WM) (WAM)(N3878)
bears 9 names

Civic and Society Memorials
Town Hall
MAIDENHEAD MONUMENT (WM5059) (WAM119)(N7882)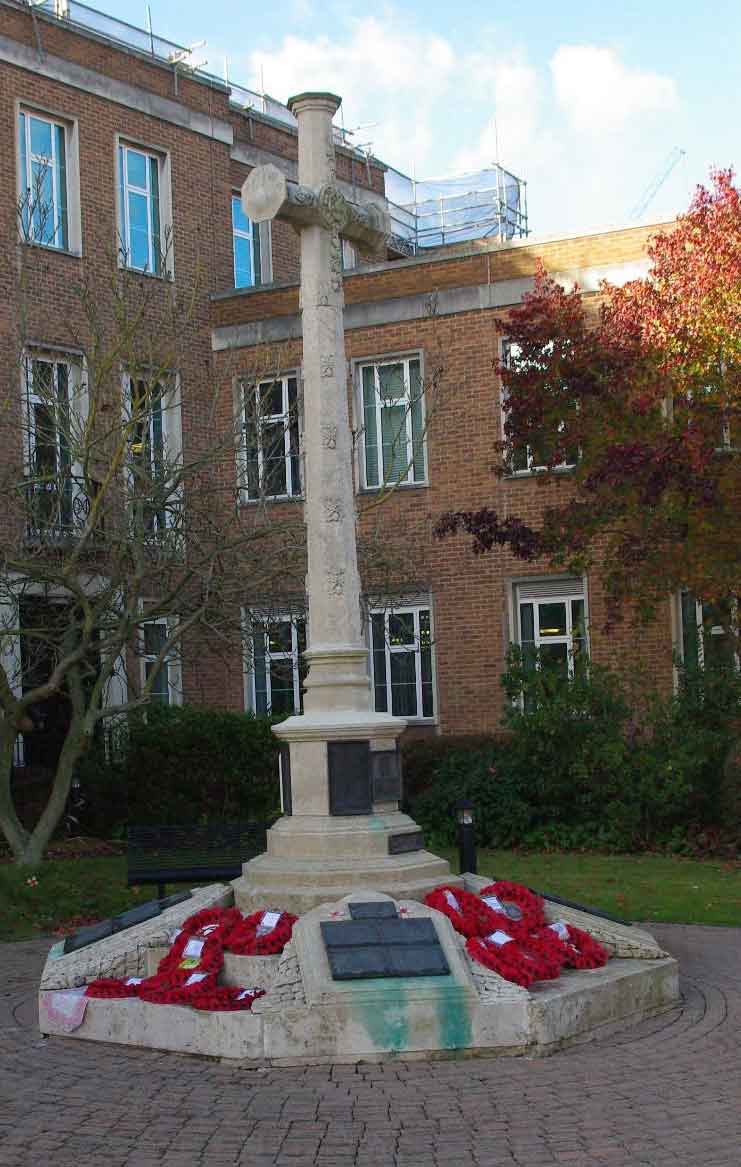 The Monument is located outside the Town Hall and bears a very large number of names for WW1, WW2 and later conflicts on brass plaques

Boer War Memorial(N7881)


Maidenhead Borough Municipal Cemetery (WM4394)
This has one CWGC burial of Cecil John Upstone d 3/7/1940


Westminster Bank
(N53895)
Located at 66 High St SU 999/812
Now in store - bronze plaque with one employee's name
Czech Children
(N61158)
located on Maidenhead Railway Station Approach - formerly on platform 3
Statue of Sir Nicholas Winton who evacuated 669 Czech children by train in 1939
Desborough School
Located on Shoppenhangers Rd SU 884/805
Maidenhead County Boys School WW1 Memorial(WM5669) (WAM135)(N3869)

Old Maidonians WW1 Memorial (WM5672) (WAM140)(N3870)
The memorial is a sports cup

Maidenhead Cof E Comprehensive School
located on Attwood Rd SU 868 805
Gordon Road School WW2 (N3865)

Furze Platt Memorial Hall
The Hall is located on Furze Platt Road SU 876 826
The Memorial (WM5034) (WAM138)(N3871)
is a wooden plaque recording the names of 24 from WW1 and 18 from WW2


DSS
(WM5660) (WAM124)
(N9127)
This memorial has been lost
Maidenhead Rowing Club
(WM5661) (WAM125)
(N9128)
Located on Cookham Rd SU979 810
The Roll of Honour
for WW1 has been lost
The Commonwealth War Graves Commission
The CWGC has its headquarters in Maidenhead and keeps several special registers
It is located at 2 Marlow Road SU 886 713
The Debt of Honour Register (WM5670) (WAM136)(N)
This is the record of 1.7 Million CWGC burials and commemorations around the world at 23,000 sites in 153 countries. It is searchable on-line - CLICK HERE

The CWGC Register (WM5636)
This records men who were originally buried in England but whose bodies were exhumed and returned for burial in their home country. It currently records 100 men

The France 1914-1918 Register (WM3099)
This records men who have recently been accepted for commemoration on one of the CWGC's memorials but whose names have not yet been added

The Iraq, WW1 and WW2 Register (WM5663) (WAM127)(N55206)
consists of a two volume bound set of books located in the entrance hall

The CWGC Plaque(WM5662) (WAM126)(N55207)
commemorates soldiers of Great Britain and Ireland who died in WW1

TheOne Million Dead Plaque(WM5662) (WAM126)(N3874)
commemorates soldiers of the British Empire who died in WW1

James Memorial (N55205)
An example of a battlefield cross located on the wall of the Information Room. It came from the grave of Signaller Frederick John Adams


Back to top »
Below you will see a table listing the men who appear on the memorial(s). However please note the following
Some men will appear several times either because they appear on two or more memorials, or they have served under two or more numbers or units or because they are recorded under two or more addresses. These categories will multiply up.
Most dates will be written in the international form of YYYYMMDD
Men whose names appear
WM
Surname
Forenames
Number
Unit
house
street
town
died
<! INSERT TABLE HERE> <! END OF TABLE>

2011 - © Berkshire Archaeological Society